Meal Ideas
Pepperoni Pizza Burgers
Posted 4/13/20 (Mon)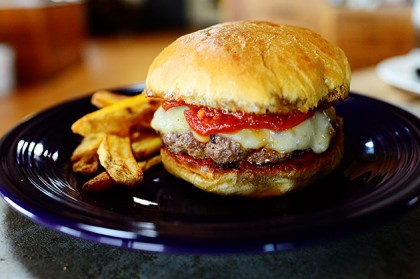 This pizza burger combination from The Pioneer Woman is mouth-watering. And is ready in 15 minutes! Butcher Block will portion your ground beef and sausage, and slice the cheese and pepperoni just the way you like.
Ingredients:
1-1/2 pound Ground Beef
1/2 pound Sausage ( A Little More Is Fine!)
1/2 teaspoon Italian Seasoning
8 slices Mozzarella Or Provolone Cheese
Pepperoni Slices
8 Tablespoons Jarred Marinara Sauce
Grated Parmesan Cheese
4 whole Kaiser Rolls Or Good Hamburger Buns
Instructions:
Combine ground beef, Italian sausage, and Italian seasoning in a bowl. Knead it together and form it into four large/thick patties. Fry the burgers on one side for several minutes, then turn the burgers. Lay 2 slices of cheese on each patty, followed by several slices of pepperoni. Allow burgers to cook all the way through while the cheese melts and the pepperoni warms.

Split the rolls and toast them in butter in a skillet until nice and golden and crisp. Spread both halves with marinara sauce and sprinkle the sauce with Parmesan.

Lay the patties on the bottom buns, then top with the top buns. Serve immediately; hearty appetites are recommended!