Meal Ideas
How to Make a Beautiful Charcuterie Board
Posted 11/27/22 (Sun)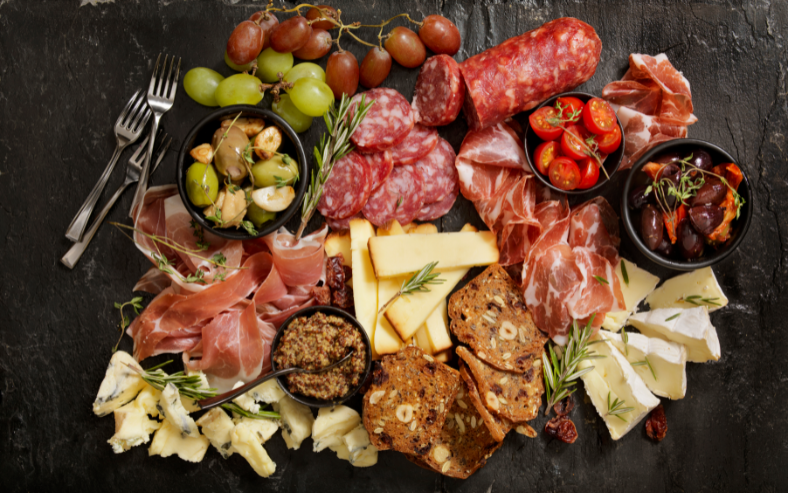 Butcher Block has your favorite crowd-pleasing meats and cheeses, plus a few to surprise your guests. Plus, we slice it perfectly for your board!
Building a Pinterest-worthy Charcuterie Board is easier than you think!
Step #1: Cheese! Select 3-4 types and a mix of soft and hard cheeses. Choose from:
- American
- Cheddar
- Colby
- Colby Jack
- Swiss
- Horseradish
- Garlic
- Onion
- Super Hot
- Ghost Pepper
- Super Sharp
- Bacon Cheddar
- Smokey Swiss
- Smokey Cheddar
- Salami
- Munster
- Smoked Gouda
- Habanero
Creative ways to display your cheese:
* Cubed and piled up to add height and dimension
* Cut into thin, square slices and fanned out along the edge of the board
* Cut into thin, triangular slices and placed in a circle, with points facing in
* Served in large wedges for guests to cut themselves
Step #2: Meat! Select 3 to 4 flavorful meats. Choose from:
- Honey Ham
- Smoked Turkey
- Roast Beef
- Homemade Summer Sausage
- Homemade Jalapeno Summer Sausage
- Pepperoni
- Hard Salami
- Dried Beef
- Pastrami
Creative ways to display your meats:
* Fold round, thin slices of meat in half, then fold again.
* Arrange to form a salami rose bouquet!
* Roll up slices of prosciutto and stack them on top of each other.
* Sopressata is usually cut into thick rounds, so fan these across the board.
Step #3: Condiments and Sidekicks
We suggest jam/preserves, pickled vegetables or olives. Add color with fruit! Try a mix of fresh fruits like Blueberries, Blackberries, Raspberries, Grapes. Nuts and crackers are easy additions that require no extra prep work! Choose a few to round out your board: Pistachios, Almonds, Walnuts, Pecans, Cashews, Mini Toasts, Seeded Crackers or Pita Chips.
Step #4: The Finishing Touches
Garnishes go a long way to add a hint of color and freshness. Try: Rosemary Sprigs, Basil Leaves or Mint Sprigs.
Step #5: Enjoy the delicious celebration with family and friends. And, if you have questions along the way, the team at Butcher Block is here to help!